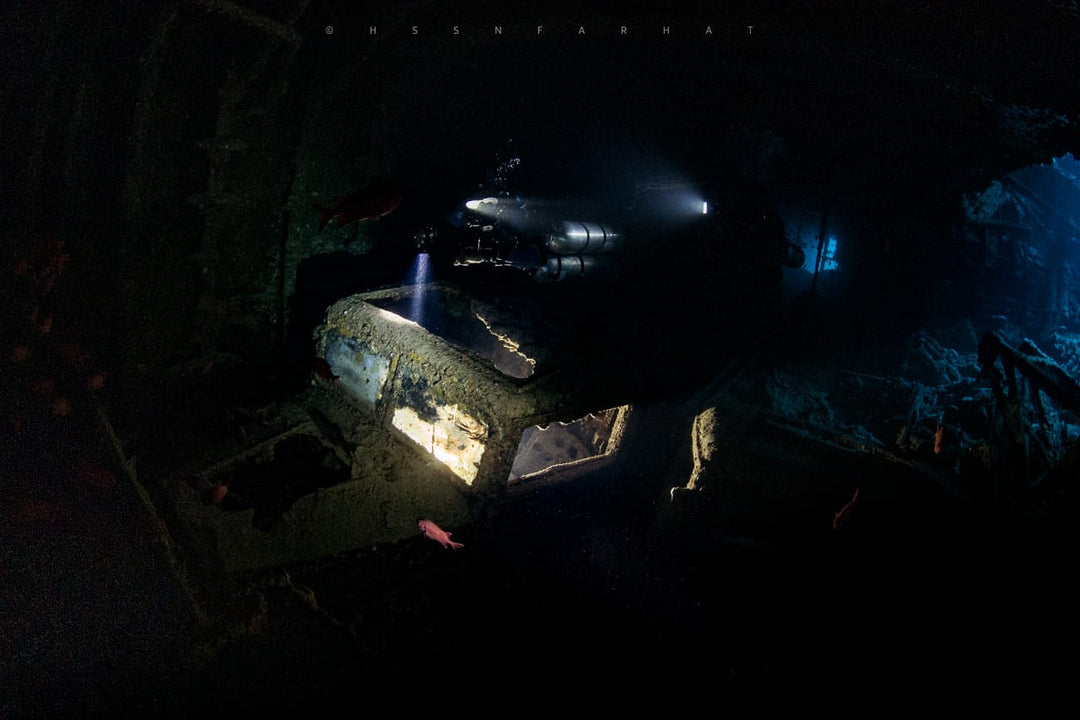 0403 TEC DIVE TRIP - ZONE 3
Regular price
Dhs. 500.00
/
---
Embark on an Unforgettable TEC DIVE TRIP - ZONE 3 for Licensed Technical Divers in Fujairah Dive Center, UAE!
Attention, licensed technical divers! Get ready for an extraordinary underwater expedition with our highly anticipated TEC DIVE TRIP - ZONE 3 at our renowned Fujairah Dive Center. As a premier destination for scuba diving in the UAE, we're excited to offer this exclusive experience for those seeking the thrill of advanced technical diving. Discover the highlights of this remarkable trip, specially designed for licensed technical divers like you.
Scuba Diving in Fujairah: Escape the bustling city of Dubai and immerse yourself in the natural beauty of Fujairah, a captivating haven for scuba diving enthusiasts. With its pristine dive sites, clear waters, and rich marine ecosystem, Fujairah offers an unparalleled setting for technical divers. Explore the depths of the UAE's underwater world and experience scuba diving at its finest.

Unleash the Power of Technical Diving: Our TEC DIVE TRIP - ZONE 3 is exclusively crafted for licensed technical divers who are eager to push the boundaries of their diving capabilities. Experience the excitement and challenges of deep diving, extended bottom times, and advanced diving techniques. This trip is designed to cater to your thirst for adventure and take your diving skills to new heights.

Discover Zone 1's Hidden Treasures: TEC DIVE TRIP - ZONE 3 takes you to the most sought-after dive sites in Fujairah. Explore this exclusive zone known for its stunning underwater landscapes, intricate rock formations, and abundant marine life. Dive deep into the depths and uncover the hidden treasures that lie beneath the surface. Prepare to be amazed by the breathtaking sights and encounter unique marine species that call this zone home.

Experienced Guides and Top-notch Safety: Rest assured that your safety and enjoyment are our top priorities. Our team of experienced technical dive professionals will guide you through the TEC DIVE TRIP - ZONE 3, ensuring a seamless and secure experience. With their extensive knowledge of the dive sites and expertise in technical diving, you can dive with confidence, knowing you're in capable hands.

Convenient Location and Easy Access: Located in Fujairah, our Dive Center offers convenient access from Dubai and other nearby cities. Escape the urban hustle and embark on a short journey to the tranquil shores of Fujairah. Immerse yourself in the natural beauty of the region and prepare for an unparalleled technical diving adventure.

Unforgettable Memories: TEC DIVE TRIP - ZONE 3 promises to create memories that will last a lifetime. Encounter breathtaking underwater landscapes, witness rare marine species, and challenge yourself to overcome the depths. Capture remarkable photographs, share stories with fellow technical divers, and relish in the sense of accomplishment that comes with exploring the uncharted territories of the underwater world.
Join us on our TEC DIVE TRIP - ZONE 3 and unlock the hidden wonders of Fujairah's underwater realm. Book your adventure today and dive into the exhilarating world of technical diving in the UAE. Prepare to be amazed, challenged, and inspired as you embark on a journey that will redefine your scuba diving experience!