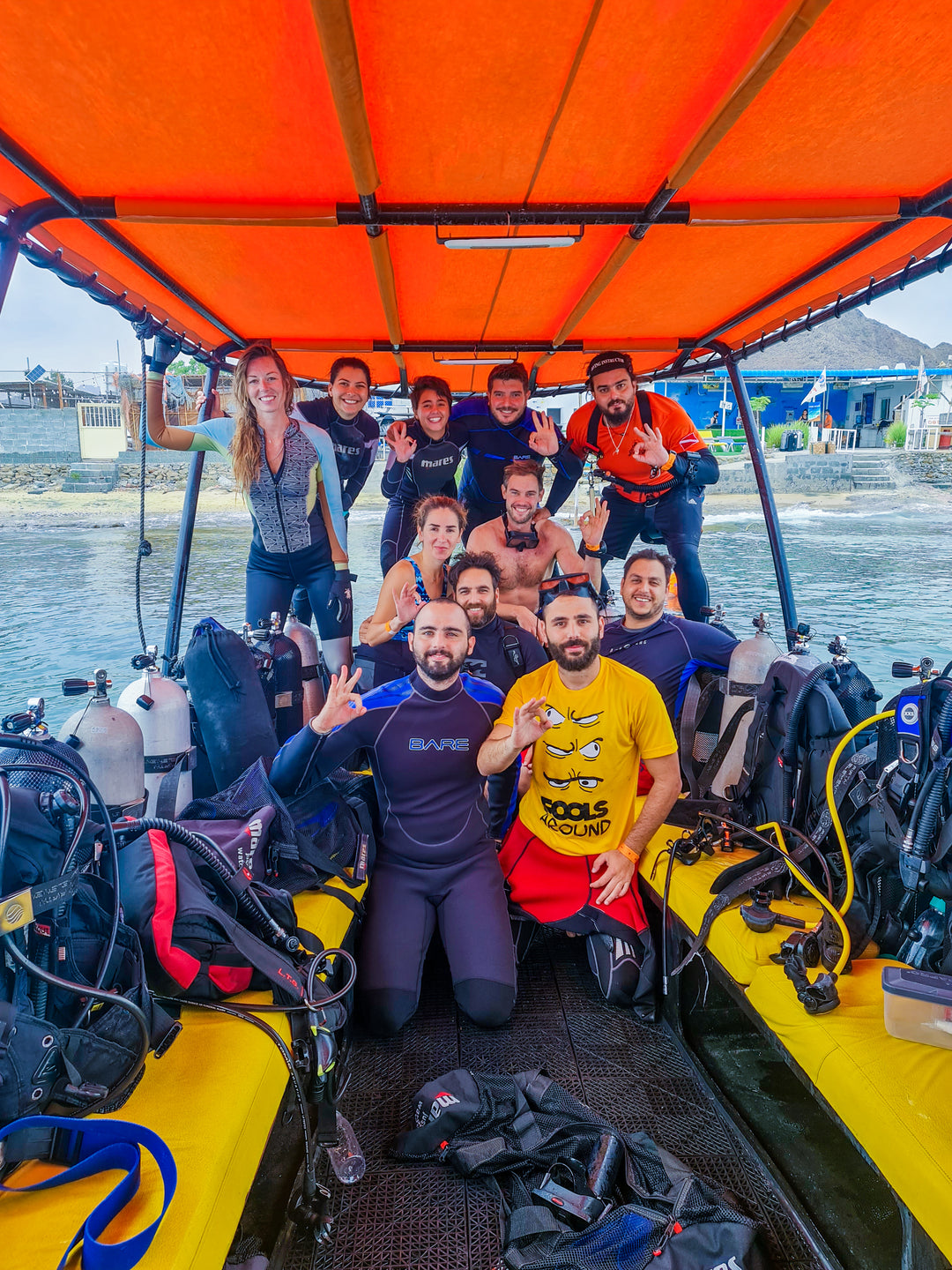 0301 SINGLE TANK TRIP
Regular price
Dhs. 200.00
/
---
Experience the Thrill of a Single Tank Scuba Diving Trip in Fujairah Dive Center, UAE!
Calling all licensed scuba divers! Get ready for an unforgettable underwater adventure with our exclusive 1-Tank Scuba Diving Trip at our renowned Fujairah Dive Center. We are excited to share the details of this thrilling excursion, which allows you to explore the stunning underwater landscapes of the UAE. Let's dive right in!
Scuba Diving in Fujairah: Escape the hustle and bustle of city life and immerse yourself in the natural beauty of Fujairah's pristine diving sites. Located away from the bustling city of Dubai, Fujairah offers tranquil waters, vibrant coral reefs, and an abundance of marine life. This hidden gem in the UAE is a paradise for scuba divers seeking adventure and breathtaking underwater encounters.

Unparalleled Dive Experience: Our Single Tank Scuba Diving Trip is designed to provide licensed scuba divers with an exhilarating and hassle-free diving experience. With a single tank dive, you'll have ample time to explore the wonders of the underwater world without feeling rushed. Our knowledgeable and certified dive guides will accompany you throughout the trip, ensuring your safety and enhancing your dive experience.

Dive Sites Beyond Compare: Prepare to be mesmerized as you descend into the crystal-clear waters of Fujairah's remarkable dive sites. Discover vibrant coral gardens, stunning rock formations, and an array of colorful marine species. Whether you're an experienced diver or new to the region, our carefully selected dive sites cater to all skill levels, ensuring a memorable adventure for everyone.

Convenient Location: Located in close proximity to Dubai, our Fujairah Dive Center offers easy access to the breathtaking dive sites. Escape the city's hustle and reach the tranquility of Fujairah within a short drive. Experience the best of both worlds by indulging in a scuba diving trip that combines the convenience of Dubai with the serene beauty of Fujairah's underwater treasures.

Unforgettable Memories: Immerse yourself in the underwater wonderland and create lifelong memories. Capture stunning photographs of colorful marine life, swim alongside graceful rays, and encounter fascinating creatures that call these waters home. Each dive promises a unique experience, leaving you with stories to share and memories that will last a lifetime.

Safety First: At our Fujairah Dive Center, safety is our utmost priority. Our experienced dive professionals adhere to the highest safety standards and provide thorough dive briefings to ensure your comfort and well-being throughout the trip. Relax and enjoy the dive knowing that you are in capable hands.
Join us on our Single Tank Scuba Diving Trip and discover the hidden treasures beneath the azure waters of Fujairah. Book your adventure today and embark on an unforgettable journey that will leave you with a deeper appreciation for the beauty of the underwater world. Experience the thrill of scuba diving in the UAE and create memories that will last a lifetime!