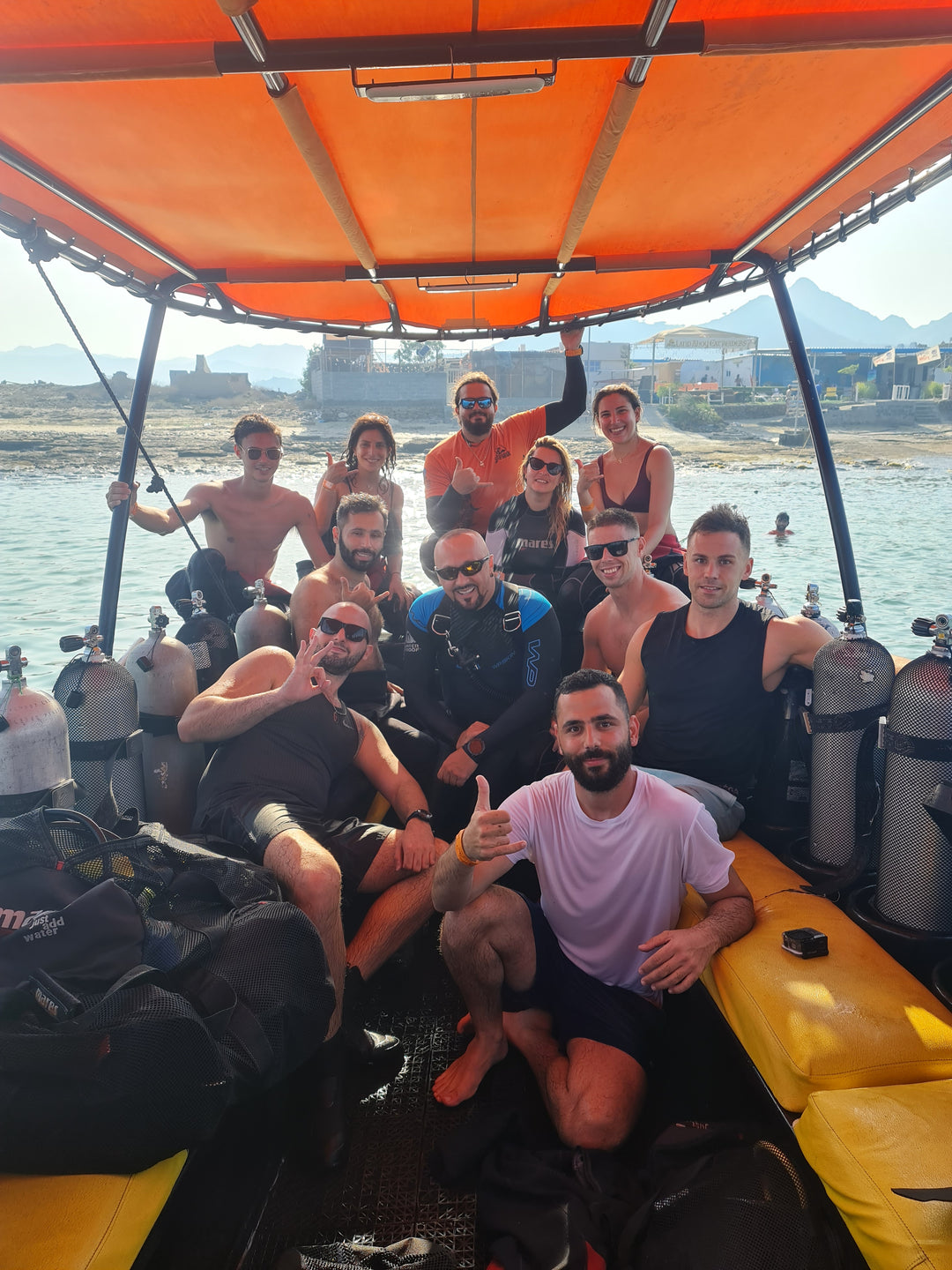 0302 DOUBLE TANK TRIP
Regular price
Dhs. 300.00
/
---
Embark on an Epic Double Tank Scuba Diving Trip in Fujairah Dive Center, UAE!
Calling all licensed scuba divers seeking an extraordinary underwater adventure! Get ready to dive deeper and explore more with our exhilarating Double Tank Scuba Diving Trip at our renowned Fujairah Dive Center. Immerse yourself in the captivating underwater world of the UAE as you discover the highlights of this unforgettable experience.
Scuba Diving in Fujairah: Escape the bustling city life of Dubai and immerse yourself in the tranquil beauty of Fujairah's scuba diving paradise. Located in the UAE, Fujairah offers a serene escape with pristine dive sites, clear waters, and a vibrant marine ecosystem. Discover a hidden world beneath the waves and experience scuba diving like never before.

Unleash the Adventure with a Double Tank Dive: Our Double Tank Scuba Diving Trip is designed to provide licensed scuba divers with an extended and exhilarating underwater experience. With two tanks at your disposal, you'll have ample time to explore multiple dive sites, uncover hidden treasures, and encounter an array of fascinating marine life. Dive deeper into the depths of Fujairah's underwater wonders and let the adventure unfold.

Dive into Unparalleled Exploration: Prepare to be amazed as you venture into Fujairah's renowned dive sites on this extended underwater expedition. Marvel at the vibrant coral formations, swim alongside majestic marine creatures, and discover the breathtaking beauty that lies beneath the surface. Each dive will reveal a new world of wonder, allowing you to create unforgettable memories and immerse yourself in the mysteries of the ocean.

Experienced Guides and Top-notch Safety: Our team of experienced dive professionals will accompany you throughout the Double Tank Scuba Diving Trip, ensuring your safety and providing expert guidance. Rest assured, our dedicated instructors prioritize your well-being and adhere to the highest safety standards, allowing you to enjoy the adventure with peace of mind.

Convenient Location and Easy Access: Located in Fujairah, our Dive Center offers convenient access from Dubai and other nearby cities. Escape the urban hustle and embark on a short journey to the tranquil shores of Fujairah. Immerse yourself in the natural beauty of the region and discover a whole new world just a stone's throw away.

Unforgettable Memories: Prepare for a scuba diving experience that will leave you with unforgettable memories. Capture stunning underwater photographs, witness awe-inspiring marine encounters, and dive into an adventure that will stay with you long after you resurface. The Double Tank Scuba Diving Trip promises a remarkable journey that will reignite your passion for the underwater world.
Join us on our Double Tank Scuba Diving Trip and unlock the secrets of Fujairah's underwater wonders. Book your adventure today and let the thrill of scuba diving in the UAE take you on an extraordinary journey of exploration and discovery!