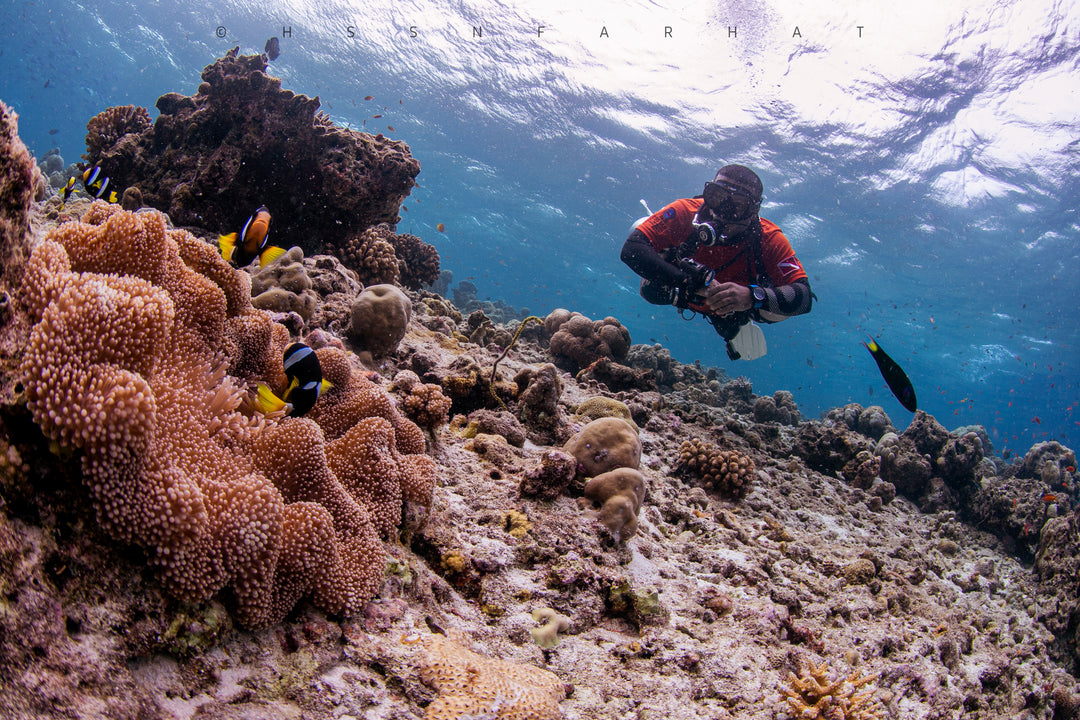 0106 DIVE MASTER COURSE
Regular price
Dhs. 3,000.00
/
---
Introducing the PADI Divemaster Program: Take Your Scuba Diving Skills to the Next Level in Dubai and Fujairah, UAE!
Are you ready to embark on an exciting journey into the depths of the underwater world? Look no further than our PADI Divemaster program, offered at our premier SCUBA Diving Centers in Dubai and Fujairah, United Arab Emirates. 
The PADI Divemaster program is designed for passionate divers who want to turn their love for scuba diving into a fulfilling career or a rewarding part-time endeavor. This course offers you the opportunity to hone your skills, expand your knowledge, and become a leader in the diving community. Here's what you need to know:
SCUBA Diving Course Dubai and Fujairah: Our SCUBA Diving Centers in Dubai and Fujairah provide the ideal setting to embark on this transformative journey. With pristine dive sites, and a rich marine ecosystem, both locations offer an unparalleled experience for divers of all levels. You'll have the chance to explore vibrant coral reefs, encounter breathtaking marine life, and discover hidden treasures beneath the surface.

Prerequisites: To enroll in the PADI Divemaster program, you must meet the following prerequisites:
Be at least 18 years old.
Have a minimum of 40 logged dives.
Hold a PADI Advanced Open Water Diver certification (or equivalent from another recognized training organization).
Hold a PADI Rescue Diver certification (or equivalent from another recognized training organization).
Have completed Emergency First Response Primary and Secondary Care training within the past 24 months.
Be in good physical health and submit a medical statement signed by a physician.
The PADI Divemaster Training: Throughout the program, our experienced and knowledgeable instructors will guide you through a series of engaging and practical training sessions. You'll learn advanced diving skills, gain a deep understanding of dive theory, and master the art of assisting and supervising dive activities. The comprehensive curriculum covers topics such as dive planning, emergency management, dive site mapping, and much more. By the end of the course, you'll possess the skills and confidence needed to lead dives, assist instructors, and mentor other divers.

Benefits of Becoming a PADI Divemaster: Becoming a PADI Divemaster opens up a world of exciting opportunities and rewarding experiences. Here are some of the benefits you can expect:
Dive Career Opportunities: As a PADI Divemaster, you can work in dive centers, resorts, and liveaboards across the globe. You may choose to become a dive guide, an instructor's assistant, or even pursue a career as a dive instructor.
Expand Your Diving Knowledge: The program offers a wealth of knowledge and insights into the underwater world, enhancing your diving skills and deepening your understanding of marine life and conservation.
Share Your Passion: As a Divemaster, you'll have the chance to inspire and mentor other divers, guiding them on unforgettable underwater adventures and helping them develop their own skills.
Professional Recognition: The PADI Divemaster certification is internationally recognized and highly respected within the diving industry. It demonstrates your commitment to safety, professionalism, and excellence.
At our SCUBA Diving Centers in Dubai and Fujairah, we are dedicated to providing exceptional training and creating a supportive and immersive learning environment. Join us on this remarkable journey as you become a PADI Divemaster and unlock a world of adventure beneath the waves.
Book your spot in the PADI Divemaster program today and dive into a lifetime